About Us
4 Tips for Longer Lasting Flowers
1) Refresh the Water: Clean Water = Happy Flowers! Give your flowers clean water every 2-3 days and remove any leaves or petals that have fallen below the water line.
2) Trim the Stems: Cut the bottom 1" off the flower stems with a kitchen shears or pruner when you change the water.
3) Temperature: Avoid temperature extremes. Keep your bouquet away from cold drafts, heat vents and super sunny hot spots!
4) Just Let Go: Those pretty petals are beautiful, but oils from our skin can break down their protective barrier and cause them to brown and bruise. Keep your hands to yourself for longer lasting blooms.
Share your Flowers on Social Media and tag Vintage Vault Floral for 10% off your next floral order. Show us your tag to receive your discount!
Poinsettia Care
Arrival: If your poinsettia arrives in a sleeve, carefully cut the sleeve from the bottom to prevent damage to the bracts.
Placement: Poinsettias prefer a bright, indirect light. Place them near a sunny window where they can receive filtered sunlight. Avoid placing them in drafty areas or near heat sources.
Temperature: Poinsettias thrive in temperatures between 65-75°F during the day and slightly cooler at night. Avoid exposing them to temperatures below 50°F.
Watering: Keep the soil consistently moist but not waterlogged. Water the plant when the surface of the soil feels dry to the touch. Make sure the pot has drainage holes to prevent waterlogging. Empty the saucer beneath the pot if water collects there to avoid root rot.
Humidity: Poinsettias prefer a humid environment. If your home is particularly dry, consider placing a humidifier nearby or placing the pot on a tray filled with water and pebbles to increase humidity around the plant.
Fertilizing: Poinsettias don't require much fertilizer during the holiday season. If you want to keep them after the holidays, you can fertilize them with a balanced, all-purpose fertilizer every 2-4 weeks during the growing season (spring and summer).
Avoid drafts and sudden temperature changes: Poinsettias are sensitive to sudden changes in temperature. Keep them away from drafts, open windows, and heaters.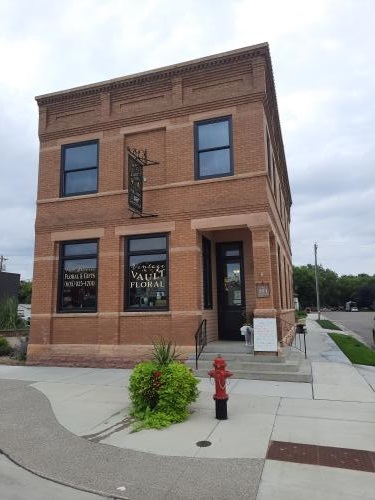 A Vintage-Inspired Shop
Established in the historic 1906 First National Bank Building on the corner of 4th and Main in Freeman, SD, Vintage Vault Floral is an unexpected delight for shoppers.
This emporium is a full-service floral design shop with yummy gourmet truffles and candies, Prairie Berry Wine, unique gifts for all occasions and trendy home decor with women's fashion accessories. In the upstairs portion of the building, we offer a wide variety of event/wedding rentals including centerpieces, linens and florals. Dawn shares her talents by providing services such as wedding planning, interior design and custom décor.
Sip a cup of Dark Canyon Coffee while you enjoy your time in our beautifully restored, nationally registered historic building. During greenhouse season in May and June, we offer a wide variety of annuals, bedding and garden plants. We are excited to meet you!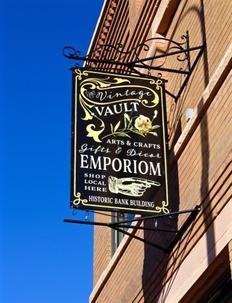 State & National Historic Registry
The First National Bank of Freeman, currently Vintage Vault Floral, started construction in May 1906. John J. Waltner, president of the bank, and his employees were ready for business on November 28, 1907. The bank used this facility until December 1976 when they moved to their new facility, one block east, now Cortrust Bank. The building has seen many faces and businesses in the past 45 years…Dale's Shoes, Stern Oil office, computer business and now a fantastic floral and gift shop.
On June 21, 2014, this building was purchased by Darren and Dawn Walz. The construction began on the building by stripping it down to nothing but brick and mortar with no heating, cooling or electrical. The building is restored to its 1906 beauty with a new roof, tuck-pointing, new fixtures and restored woodwork. Vintage Vault Floral opened for business on December 4, 2014. The First National Bank of Freeman building was placed on the South Dakota State Historic Registry and the National Registry of Historic Places in November 2015.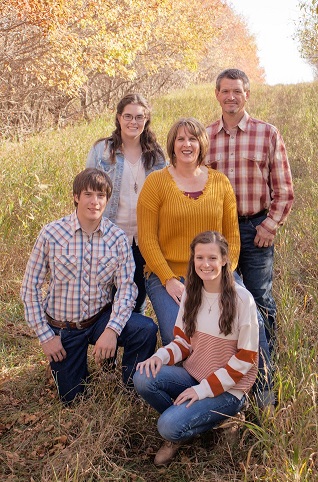 Meet Dawn Walz, Owner and Visionary
Dawn has lived in rural Freeman her entire life. She married the neighbor boy, Darren Walz, in August 1999 and has three children, Dustin, Katelyn and Andrea, who are triplets. Together with her husband and children, Dawn's dream of owning a business on Freeman's main street has became a reality.
Dawn offers more than 15 years of design experience. Whether you are looking for help with planning a wedding, need florals for any occasion or a fresh look for your home or business, Dawn and her design team are dedicated to your projects satisfaction.
Dawn doesn't have a lot of free time but cherishes family time and hanging out with friends!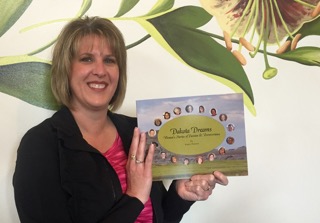 Dakota Dreams, Journeys of SD Business Women
Dawn Walz's journey is told in this book, Dakota Dreams, written by Karen Pearson, in June 2016. Stop in the store for your personal copy of her story and 16 other courageous South Dakota women in business!
Meet Our Staff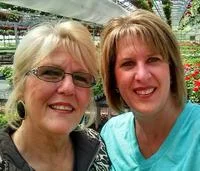 Bubbles Mensch, Greenhouse Extraordinaire
Bubbles, Dawn's mom, has been a part of this journey from the very beginning helping with the remodel and opening of the store. Bubbles pops in now and again to see what is new. But come greenhouse season, Bubbles will lovingly care for the greenhouse plants grown by family, Mensch's Greenhouse, of Avon, SD. Love this lady!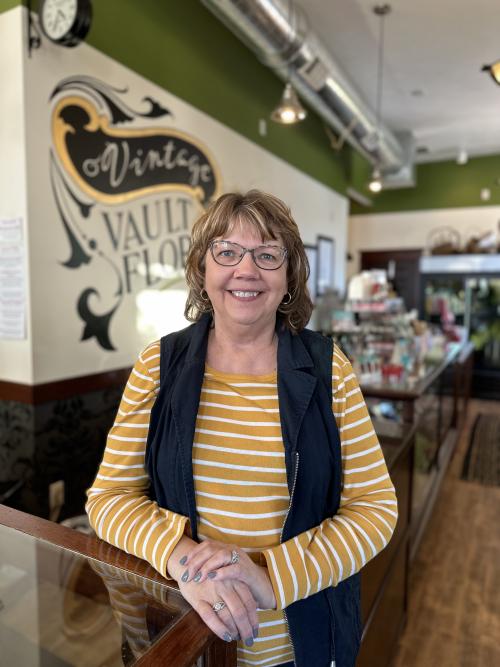 Lori Kubik Kippes, Customer Service & Merchandise Associate
Lori is fabulous at helping our customers with their shopping needs and floral orders. She is also our rental extraordinaire! Lori also gets to open and tag all the new merchandise for YOU!
She lives in Marion with my husband, Larry, who is the Chief Electrical Inspector for the City of Sioux Falls. They have two children, Katie and John, who are both married and both reside in Waukee, IA. When Lori is not working at the Vault, she loves to read and enjoys camping with her husband and friends.